If you're a Boba Fett fan, the last few years have been amazing. From his return in The Mandalorian to his run on Disney+ (The Book of Boba Fett), we Fett fans have done pretty well. Not only did we get to see it return, but we also received plenty of great merchandise to go along with it. From action figures to clothing, there's something for every fan of this iconic bounty hunter. Well, thanks to Fun.com, we have another awesome and fun item to add to the list, their exclusive unisex Boba Fett high tops.
Boba Fett Unisex High Top Shoes Review
Last week, Fun.com unveiled three new Star Wars shoes exclusive to its line. These shoes pay homage to Boba Fett, Princess Leia and Chewbacca. Well, thanks to our friends at Fun.com, I was able to get my hands on the Boba Fett shoes to review for you guys. This and the other exclusive Star Wars shoes are available now at Fun.com. You can check out my thoughts on the Boba Fett pair below.
The disadvantages of Boba Fett high top shoes
OK, so there really aren't many negatives about these high tops, unless you're not a fan of high tops. But I thought to myself, let's get those little inconveniences out of the way first so we can focus on all the good stuff.
If you love a designer shoe box to go with your shoes, you're out of luck. These shoes are bagged in a fun.com shipping box.
These shoes are not available in wide sizes. Also, these shoes (at least for me) fit me about half a size (or smaller). Unfortunately, they are not available in half sizes.
While these shoes are comfortable, there isn't much cushioning or support, so I wouldn't recommend playing basketball or other high impact sports.
The benefits of Boba Fett high top shoes
Now here's what everyone's been waiting for, the pros of these Boba Fett shoes. These shoes are just fun and have good things going for them.
Priced at $49.99, these shoes are well worth the value.
These high shoes are comfortable. They are good to wear around shoes and will look great showing them off at your favorite convention.
With a faux leather upper and rubber underside, these shoes will withstand most weather conditions. You can also tell that these shoes are well put together.
Based on the green shade of Boba Fett's armor, these shoes would also look great in a collection if you choose not to wear them.
The red highlights around the laces really make these shoes stand out.
The mythosaur skull and Fett symbol (no official canon name yet) give this shoe a stylish look that any Boba Fett fan will appreciate.
These high tops are officially licensed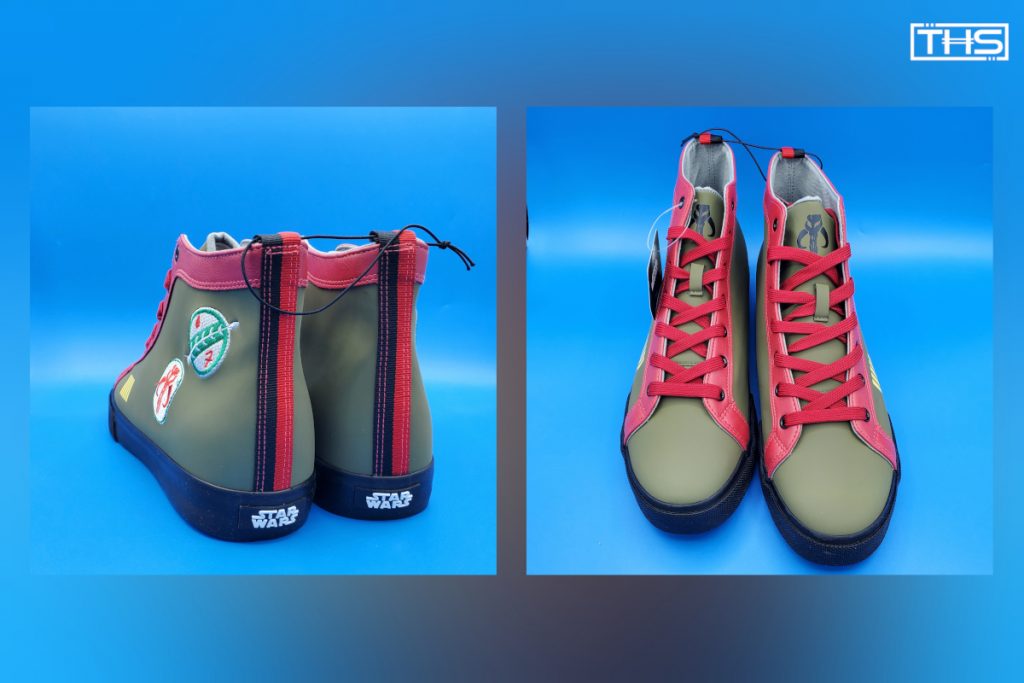 my last thoughts
OK, I was very skeptical about these shoes before I got them. But once I got them I fell in love with them right away. They are just fun! Now I don't usually wear tops (due to a leg brace) so these will go into my Boba Fett collection where they will be proudly displayed. The green and red colors of the shoes along with the patches give it that new The Book of Boba Fett feel. Plus, like I said in this review, these shoes are comfortable and would be fun to wear and show off. So if you are a Boba Fett fan and looking for a Fett shoe to wear or add to your collection, these shoes are a must have for you.
You can get your unisex Boba Fett high top shoes by going to Fun.com.
We want to hear from you
What do you think of the unisex Boba Fett high top shoes from Fun.com? Is it a must-have for your collection? Also, what other Star Wars shoes do you have or want in your collection? Well, That Hashtag Show wants to hear from you!
You can let us know what you think by leaving a comment below or by contacting me at starwarsnerd574. You can also reach me at Star Wars Fanatics of the Midwest fan page to discuss all things Star Wars. Also, be sure to stay up to date with all the Star Wars news by following us on ThatHashtagShow.com. Most importantly, be safe, I look forward to seeing you all at Party This can.
SEE ALSO: