Halton Regional Police are trying to track down several suspected thieves after multiple thefts from a Burlington showroom.
The incidents occurred at Emile Shoes, said the police.
One of them happened when a man walked into the store on May 19 and selected two pairs of shoes, Pumas and a pair of Cloud 5 Ons.
The man takes off the shoes he was wearing in the store, puts the Cloud 5s on his feet and leaves his old shoes in the Cloud 5 box on a shelf, police said.
He then pays cash for the Pumas and leaves the store, carrying the stolen shoes, worth $159. The man left the store in what appears to be a black 2022 Kia Carnival SUV, police said.
He is in his 50s, weighs 190 lbs, short gray hair, wears a black puff jacket, black shirt with a blue undershirt, blue jeans and black/white running shoes (stolen), the stolen shoe size was a size 10.5 for men.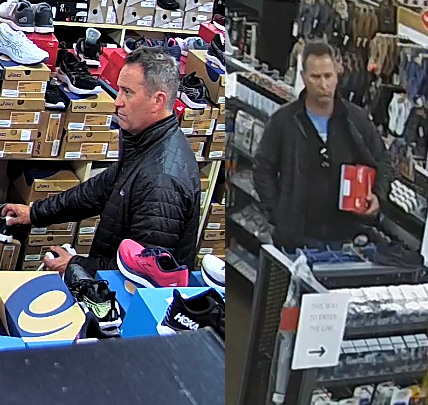 Earlier, on May 15, the store fell victim again, police said.
A man and a woman picked out two pairs of shoes worth $200 and hid them in the woman's large dress. The couple then walked out without attempting to pay for the concealed shoes, police said.
They left the area in what appears to be a gray Toyota Apex Corolla, with black duct tape covering the rear license plate.
The woman appears to be in her 40s, 230 pounds with a large build, brown eyes, black hair in a bun, a long puffy light blue dress, carrying a large black handbag, light colored sandals with a thick sole.
The man is also in his 40s, weighs 250 pounds, is tall, has brown eyes, medium length black slicked back hair, wears a dark blue T-shirt with a picture on the left chest, a black fanny pack over the shoulder, dark blue jeans, colorful shoes.


TO SHARE: